A Montreal bachelor party would not be complete without an amazing steak dinner. Montre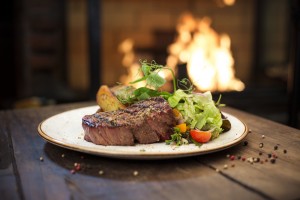 al is know world-wide for its vast number of restaurants and cuisine. Montreal now has the highest number of restaurants per-captial in Canada and comes in second (only to NYC)in North America. One of the types of cuisine Montreal does right is Steakhouses. If you are looking for a traditional old school steakhouse you will find it in Montreal as well there are some new hip versions of steakhouses that will leave you wanted more. Our party planners at Montreal VIP have some great selections of Steakhouse in Montreal that our clients love.
Here is our top 5:
5. Vargas Steakhouse $$(690 Rene Levesque W., Montreal, Quebec H3B 1X8): Vargas is centrally located in the heart of downtown Montreal. It has several different options to enjoy steak or seafood and also has a great selection of sushi. Vargas offers a different take on your classic Steakhouse and is something to try when you are in Montreal. Crowd: Corporate, young.
4. Gibby's $$$(298 D'youville, Montreal, QC H2Y 2B6): Gibby's is one of the longest running Steakhouses in Montreal (old Montreal) that has been giving quality steaks and servIce for many years. It is your classic steakhouse and a little old school but the food is great.  Any steak you choice is cooked to perfection and they have a wonderful selections of sides. Not to mention the pickles and bread that come to the table.  Crowd: Expect a older crowd, families (early in the evening).
3. La Queue de Cheval Steakhouse $$$$ (1181 Rue de la Montagne, Montreal, Quebec H3G 1P1): The Q as most Montrealers will refer to the restaurant is one of the most expensive Steakhouses in the city. It has just recently reopened in a new location which is stunning visually. The Q is known for there aged-steaks that are cooked just right. The service your receive is A-one and they are known for their cocktails. It is a great place to eat before heading to Montreal Canadiens Hockey game. It is a good spot if you are looking to impress friend, co-workers or a special person. Crowd: Young, Hip, High rollers
2. Moishes $$-$$$ (3961 Boul St-Laurent, Montréal, QC): In the heart of downtown Montreal Moishes has been serving some of the best chair broiled  steaks in Montreal for decades. It is a old-stye steakhouse that has been named in 2016 by YAHOO! as the 4th best steakhouse in the world. They have a great special from Thursday to Saturday after 9pm, appetizer + main course for $25 and sides for 5$. Good spot for the bachelor party to enjoy a great steak dinner before hitting the clubs without breaking the bank. Crowd:  Corporate, Young
1.Rib n Reef $$$ (8105 Boulevard Décarie, Montréal, QC H4P 2H5): This steakhouse is a little outside of the downtown core however they also have an amazing cigar room and terrace in the summer to enjoy. They specialize in chair broiled meats and seafood, the menu will have something for everyone in your group. The Rib n Reef have been in business since 1960 and continues to provide amazing service. They are well known for their signature caesar salad prepared table-side and also for their prime rib. After dinner go up to their private cigar lounge and enjoy an nice whiskey and cigar. Crowd: Older